REPOST: Tis the Season!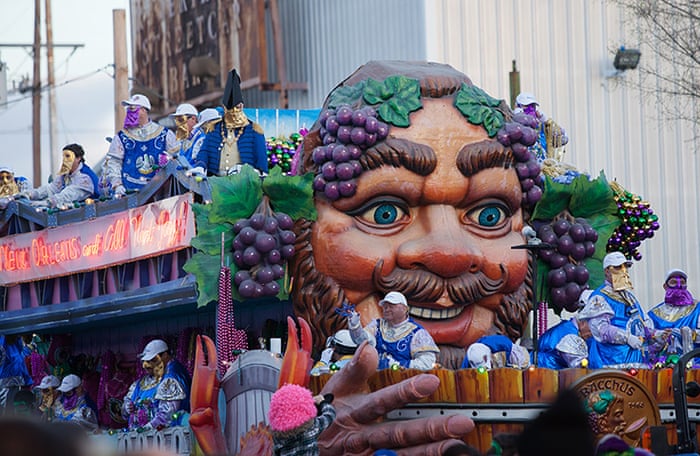 It's hard explaining this time of year if you've never experienced it. Sure, you've seen stuff on TV, about parades, beads, debauchery, drinking, and all the while, women — and men — behaving badly.
But it's not typically like that. Most of the parades start waaaaaaay uptown, beyond the manor, and wind their way down Magazine and Napoleon before turning onto St. Charles.
"From there," I finished explaining to Jack, who stood at my side, "they still have miles to go before they finish on Tchoup." Tchoupitoulas, for us locals.
Jack, being quite tall, scooched behind me, politely letting two women, each just tall enough to ride the "big kid" rides at Disney, get a better view. One of them yelled, "Throw me somethin', mistah!" at the looming, pink float that lumbered passed us.
"I know that, ma'am," Jack hollered to be heard over the roar of the crowd, the effort almost costing him his British accent. "I have seen Mardi Gras before."
"Ah, but you were a cop before, not a participant." I gestured across the street from us to the neutral ground of St. Charles. Typically, that large green strip of grass only supported streetcars filled with tourists, runners, and the occasional dog walker. Now it was stuffed with tents, bar-b-ques, coolers, shade structures, boom boxes powered by portable generators, tarps, a thousand ladders topped with small children, and tens of thousands of people standing, waving, jumping, and shouting. "
Out here, it's all about families. Days of block parties. Free entertainment, free stuff. Music, food, —"
I stood with my heels firmly planted on the granite curb, my toes dangling into space over the street. I leaned into Jack as the high school band marched by, the bass drummer in his enthusiasm nearly whacking us with his mallet. Jack pulled me closer into him, just in case.
Exploiting the darkness the Krewe of Bacchus had wonderful illuminations, emphasizing details of each float. The next one coming was a clown, its eyes, nose, and mouth shimmering in multi-colored LEDs. But the parade had stopped, not uncommon, and the bass player remained before me, thumping away.
"It's like a big tailgater," I added.
"Ah," he said loudly, "but tailgating is a way to entertain oneself while waiting for the game. What are
they
waiting for?"
"Lent?" I shrugged. Not a real answer, but it quelled my healer.
Finally the band moved on, followed by a pickup truck pulling a trailer fitted with cannons shooting confetti, bubble machines, and fog makers. Behind it plodded the next float, the clown one. As it approached, the krewe members atop it showered us with beads, doubloons, and whatnot.
The crowd helped keep the chill of the night air at bay. That, and my puffy down coat, scarf, knit cap, fleece pants, wool socks, and insulated gloves.
Hey, I'm from New Orleans. Anything below 62 degrees is downright nippy!
The float riders, too, were bundled up, wearing warm clothes beneath their costumes. Even their faces, hidden behind various masks or, in the case of this float, veils covering their noses and mouths. From the curb, we could only see their eyes.
The eyes are important. Don't just wave your arms and jump up and down; if you want to get something from a rider, look them in the eyes. That connection often yields rewards.
I scanned the riders on the lower tier of the float, the ones closest to me. One already had his eyes on me. I smiled and waved. He gave a nod, reaching for something below the float's railing. As he neared, he leaned down to pass me a cluster of beads rather than tossing it. I reached up.
Jack rudely grabbed my wrist, yanking me back into him. At the same moment the two short women also grabbed my arm, one tearing the glove from my hand, the other jerking me toward the rider. I became the rope in a tug o'war, Jack pulling me into the crowd behind us and the women pulling me closer to the rider.
It took me a moment to realize…
the rider wore no glove.
No longer holding the beads, his arm reached out for me.
Touching in my world is a no-no. Very bad things can happen if you're touched by very bad people. Sadly, my world was rife with very bad people.
Since my toes weren't on the earth, I had little to leverage myself backward, other than Jack's arms.

The float inched forward, the unwelcoming hand got closer, and I stood unmoving, balanced between Jack and the women. Panic filled me.
"Stop!" I screamed. The float in front of us did. So, too, did the world immediately around us; the crowds, the music, even beads in mid-air. Everything in a hundred foot radius stood completely still, except for the women, Jack, and myself, who remained battling over my arm.
My talent has no effect if you're touching me.
Realizing something had changed the women looked around, confused by the sudden silence. It was enough to allow Jack and me to wrench free from their grasp. Hysteria filled their eyes as Jack and I shoved our way into the crowd. I stomped my foot and muttered "Go" under my breath. Around us, everything and everyone moved again.
We hurried away, squeezing ourselves onto the sidewalk, leaving a wake of erupting commotion. The people who fell just outside my time-stopping talent, those who didn't freeze, freaked at the people who had. The two women pointed at me, jumping up and down, shouting, "Witch! Witch!"
Some folks looked at me. "Yeah," I nodded rolling my eyes, "I wish."
Jack shuffled me along. I looked back at the float. The rider lifted his veil. I recognized the chiseled jawline, the groomed facial hair, and the perfect lips that formed into a pucker and blew me a kiss.
I stopped Jack. I blew a kiss back.
Nice try
.
"Was that…?" Jack stammered.
"Yes," I nodded. "Good to know. Malador's in Krewe of Bacchus."
Next year, I'll make a point of saying a
proper
hello.